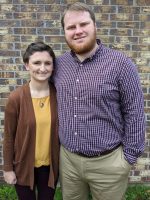 My name is Zachary Littleton and I am the Student Minister here at First Baptist Alba's Ablaze Student Ministry. My wife Haleigh and I have been serving here since 2018 and have loved every minute of it. I received my bachelors and masters degrees from East Texas Baptist University in Religion. I have served on staff and voluntarily in churches since 2012.
My passions are studying the Bible and leading worship and praise (honest). To help me relax, I enjoy playing video games and watching movies (I know, almost the very definition of a geek). The best food in the world is Chinese food (Disagree? Well we can't all be right)!  My favorite music is rock, but please…no country music!
What I love most about my job is to teach Bible studies. I love the look in people's eyes when they finally understand what I have been going on and on about. It is these moments that make my job a privilege and a joy.
My approach to the students in our church has been and will continue to be one where I treat the youth as fellow participants in the kingdom and mission of God. My lessons are not designed to keep you busy while the adults have the real bible study. Youth who attend church services regularly until graduation, should be well versed in the book that they have been studying for 6 years.
I hope that this gives you some idea of who I am, but nothing that I write will replace what you can learn by speaking with me. Please stop before or after the lesson and talk to me. I look forward to getting to know you better!